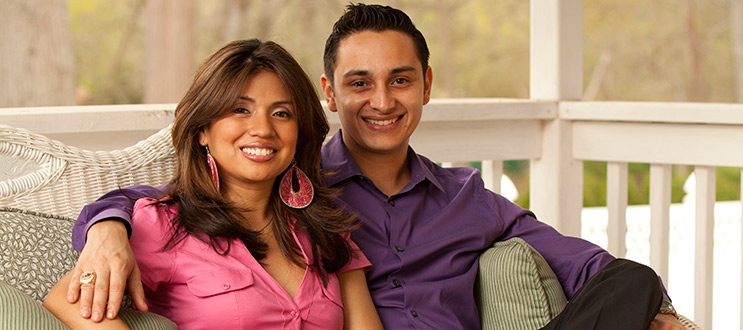 Carlos & Sara Salazar
Lodi, NJ
Carlos and Sara Salazar, of Lodi, NJ, are very familiar with the concepts of freedom and opportunity. Carlos' parents immigrated to the U.S. from Colombia and Sara's
parents emigrated from Peru. Both journeyed to the U.S. in search of a better future and a new start. Their willingness to do what it took to give their families a chance at a brighter future set a powerful example for Carlos and Sara – and led them down the path that brought them to Primerica.
Visions of Success
"I grew up watching my parents work hard but still struggle to make ends meet on my father's factory income," says Carlos. "I knew that if I wanted a better life, I needed to find an occupation that would allow me to create financial freedom for myself and my future family."
Initially, Carlos says he saw how "famous" people, like sports stars and actors, could basically write their own ticket. But as he got older, he formed a more practical plan: go to college, earn a finance degree and make his fortune on Wall Street.
Like Carlos, Sara also watched her family work hard, but her experience was a little different. "My parents brought us here to open a tax accounting business," explains Sara. "My father taught me that success (and freedom, ultimately) comes from being a business owner, not an employee."
A Full-Time Career
Fast forward a few years and Carlos found himself unhappily working in the corporate world while future wife Sara attended art school. "I was working in the music business," recalls Carlos. "The experience wasn't everything I thought it would be. I had done what I thought was the right thing to achieve success, but I had come to realize that sacrificing my time and hard work to help someone else to become successful was never going to result in the kind of success I wanted for myself."
He continues, "Primerica was different though. Here, the size and success of my business is entirely up to me and my efforts. At Primerica, I am building my own business and I work hard to make it as successful as possible. Here the success of my business depends on my effort and my willingness to work hard."
Success for the Future
Today, the Salazars are the parents of two boys, Sebastian, 18 months old and Alexander, two months old. Because of Primerica, Carlos and Sara know that their kids will see first-hand what success looks like – and that those experiences will be the fuel their kids need to go out and create their own incredible futures. "This business has helped me to get my priorities straight. To put God first, then family, then business. When I was a kid, I wanted to be famous, but now I know that true success comes from focusing on the right things in your personal life and also making a difference in someone else's life – and that's what we're modeling for our boys because of our Primerica business," says Carlos.