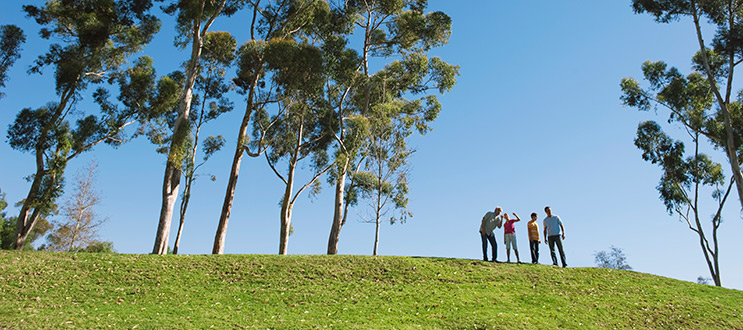 Build a Future, Part Time*
At Primerica, you don't have to be full-time to potentially earn full-time income.* Here, your success isn't determined by the number of hours you put in at the office, it's about what you DO with whatever time you choose to put into building your business. When you focus on making a difference in others' lives, you can earn a great income a few hours per week, while maintaining the relative security of your full time employment.
Here, you'll be paid based on your efforts – which means you have the potential to reach whatever income level you want! Best of all, you can build part or full time…whatever works for YOU!
At Primerica, you are paid based on how many families – just like yours – that you help. Best of all, you can build a successful business part- or full-time ... whatever works for you and your family!
As a Primerica representative, what will I be doing for clients?
Primerica is all about people! Our business was founded on the principles of helping middle-income families to become better educated about their finances and we offer competitive, personalized solutions for families complete financial health.
As a Primerica business-builder, youll be able to help people in your community to:
Learn basic financial concepts that aren't taught in school! We use our unique Financial Needs Analysis (FNA) to identify problem areas in a clients financial picture and to help them achieve their financial goals.
Complete their applications for financial products and programs offered through Primerica such as life insurance, debt solutions, investments, pre-paid legal protection, long term care insurance and auto and homeowners insurance.
Get on the path to achieving their long-term financial goals through continued communication.
Can I include my family in this business?
Of course! Primerica is the perfect place for the whole family to get involved.* Some of our reps work together as licensed leaders, building separate businesses within the same family organization. Some invite family members to help out in the office or to provide other types of business support. Just as each family is unique, so is each family unit within Primerica! Whatever system works for you and your family, you are welcome to make the Primerica business opportunity work for you and the people you care most about.
How do I build a network of clients to serve?
The most successful entrepreneurs in Primerica have found that working through referrals from friends and family is the best way to grow a business. Think about all the people you speak to on any given day:
1. Relatives
2. Neighbors
3. Co-workers
4. Church members
5. Store clerks
6. Parents of your children's classmates
The list goes on and on. How many people do you know who might benefit from a discussion about personal finance? How many people do your friends know?
Where does Primerica do business?
Headquartered in Duluth, Georgia, Primerica and its affiliates make up one of the industry's largest financial services organizations, with offices all across the United States, Canada and Puerto Rico. Check your local phonebook or do a search online. There's likely a Primerica office nearby that's ready to help you!
Who joins Primerica?
Ordinary people from all backgrounds and all walks of life join Primerica. We're proud to offer a business opportunity that anyone can use as a path toward a better life. Read about the Success Stories of some of Primerica's most successful Latino leaders, and you'll learn how ordinary schoolteachers, field workers, students and others changed their financial destiny.
What do I get for my investment?
Primerica offers an ideal entrepreneurial opportunity without all the risks and costs usually associated with starting a business of your own.
Education
You receive comprehensive training through the Primerica Education Center on Primerica Online and access to some of the industry's best prelicensing education resources, all to help you pass your life insurance licensing exam and start producing.*

Communication
You can get access to Primerica Online, the Company's internet portal for news, licensing education, business management data and multimedia content.*

Support
From tech support to legal compliance and education, there are more than 1,800 home office employees working toward YOUR success!
Do I need financial experience?
In Primerica, your ambition to succeed and your passion for helping families are more important than your work experience. While you dont need a financial background or a degree, you will need to earn the required licenses to sell our financial products. With an entire department in Primerica dedicated to helping you learn the financial services business, it has never been easier to become licensed. From your first day inside Primerica, you will receive comprehensive training and instruction from your colleagues. Primerica has also built an extensive library of print, video, audio and online training resources, with some educational material available in Spanish.
Does Primerica advertise anywhere?
Primerica does not do any large-scale advertising because we couldnt possibly communicate what our business does for families and entrepreneurs in a 30-second commercial on TV or a magazine ad. Primerica is in the people business. And our experience has revealed that the best way to promote our business is through face-to-face conversations, one family at a time.
While this website provides lots of great information about Primerica, you can learn even more about Primerica by speaking with one of our representatives or by attending an Opportunity Meeting at an office near you.
Describe a typical workday in Primerica.
As a representative in Primerica, a typical business day would involve: scheduling appointments, attending training meetings in a local Primerica office, making follow-up calls with potential clients and new teammates, filling out paperwork for your business activities and visiting clients at their homes to make presentations about Primericas financial solutions.
How much money can I earn?
Your earnings are based entirely on your effort. The more time and energy you put into the business, the more money you can make.
Do I need to leave my full-time job?
The great advantage of Primerica is that you can do the business on your own schedule. Nearly all Primerica representatives begin part-time while they learn the business and work to become licensed. You have the freedom to work at your own pace because you set your own hours. And when youre ready to work full-time, you may be eligible to enroll in an affordable new health care program exclusively for Primerica reps.
Are there opportunities for advancement in Primerica?
Of course! Primerica places emphasis on rewarding the leaders in this company who commit to building a business. When you meet specific qualifications, you can become eligible to advance to higher levels of leadership ... and earn more compensation. Just ask the Primerica representative who referred you to this website for more details.
Besides earning potential, what else can this opportunity do for me?
First and foremost, the Primerica Opportunity can teach you how money works! Very few families understand the basic concepts of managing money. Even fewer know how to put those concepts into practice. This opportunity represents an incredible chance to make a difference in the lives of your friends and neighbors. You could be the person to help them reorganize their finances, pursue their dreams and literally change their lives forever! What an incredible feeling it is to make an impact on your community.