The Hispanic American Leadership Council (HALC)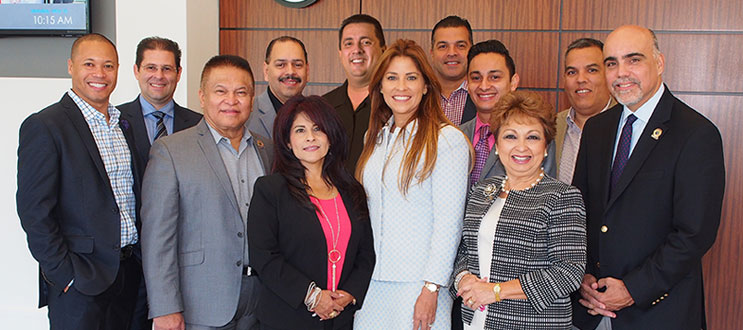 Become a Part of the New Hispanic American Leadership Council
How to Join
To qualify for the HALC you must have earned $100,000 in a 12-month period1; you must be Hispanic or have a Hispanic partner2 and you must be in good standing with Primerica. As you approach the income milestone, email your name, solution number, office number, GoSolo number and fax number to HALC@primerica.com.

Built for those on a mission to change their lives and the world around them, Primerica provides an awesome opportunity for business ownership and leadership.3 The Hispanic American Leadership Council (HALC) was founded to support and celebrate Primerica's leadership opportunities among its Hispanic American representatives.
Mission
The mission of the HALC is to expand our business in Hispanic markets ... bringing more Hispanic people into our business and making more successful those who are already a part of our business.

Click here to learn more about the HALC committees.
Ace Acevedo, HALC Board Member
Clarksburg, MD
Former Occupation:
Student

Fernando Balbuena, HALC Board Member
Beeton, Ontario
Former Occupation:
Business Administration

Francisco Dillon, HALC Chairman
Lodi, NJ
Former Occupation:
Clinical Psychologist

Eddie Gonzalez, HALC Board Member
White Plains, NY
Former Occupation:
Real Estate Broker

Ricardo Lugo, HALC Board Member
Northside, CA
Former Occupation:
Electrical Engineer

Cathy Muñoz, HALC Board Member
Anaheim, CA
Former Occupation:
Social Worker

Willy Naranjo, HALC Board Member
Miami, FL
Former Occupation:
Financial Planner

Henry Pimentel, HALC Board Member
Ronkonkoma, NY
Former Occupation:
Truck Driver

Eileen Rivera Vega, HALC Board Member
Hato Rey, PR
Former Occupation:
Accountant

Jose Rivera Vega, HALC Co-Chairman
Hato Rey, PR
Former Occupation:
Student

John Roig, HALC Vice-Chairman
Coral Springs, FL
Former Occupation:
Teacher & Coach

Noemy Rubio, HALC Secretary
Ontario, CA
Former Occupation:
Cosmetics Sales Manager

Carlos Salazar, HALC Board Member
Lodi, NJ
Former Occupation:
Music Royalty Analyst

Angel Urena, HALC Treasurer
Johnston, RI
Former Occupation:
Financial Aid Director, Real Estate Developer,
Computer Consultant, Justice of the Peace